Welcome to Cipher Tech's:
Non-Tech, Tech Talks [BETA]
aka a series for "People Who Program Good but Who Want to Learn How to Do Other Stuff Good Too" (PWPGbWWtLHtDOSGT)
About the Series:
Spawn from someone's love of the MasterClass platform, we decided to launch a series of non-tech, tech talks hosted by domain experts in a wide range of nerdy topics that are typically not directly related to our core line of work. We know it's a departure from the old talks on Operating System internals and the innerworkings of NTFS, but after your 14-hour work day… we thought you deserved to unwind with a light talk on orbital mechanics.
Confidentiality:
Due to the sensitive nature of some talk topics and the access and identity of given speakers, this series is a "Cipher Tech + Friends" invite only series. Naturally that means that the identity of the other-than-CT folks in attendance, must also be strictly protected.
Distribution & Recommendations:
Want to extend the invite to someone else in the community? No problem! Just drop us a line to let us know they're coming (so we don't boot them from the channel). Ready to give a talk yourself or know someone who should be our next speaker? Send us your talk title and abstract and we'll add it to the pool of talks. Every quarter we vote on the next round of topics. Notifications and recommendations can be send to Stephanie Johnson (sjohnson@ciphertechsolutions.com), the manager of this series.
________________________________________________________________________________
TALES OF A CRYPTO MINER
Wednesday October 19 @ 2030 via Microsoft Teams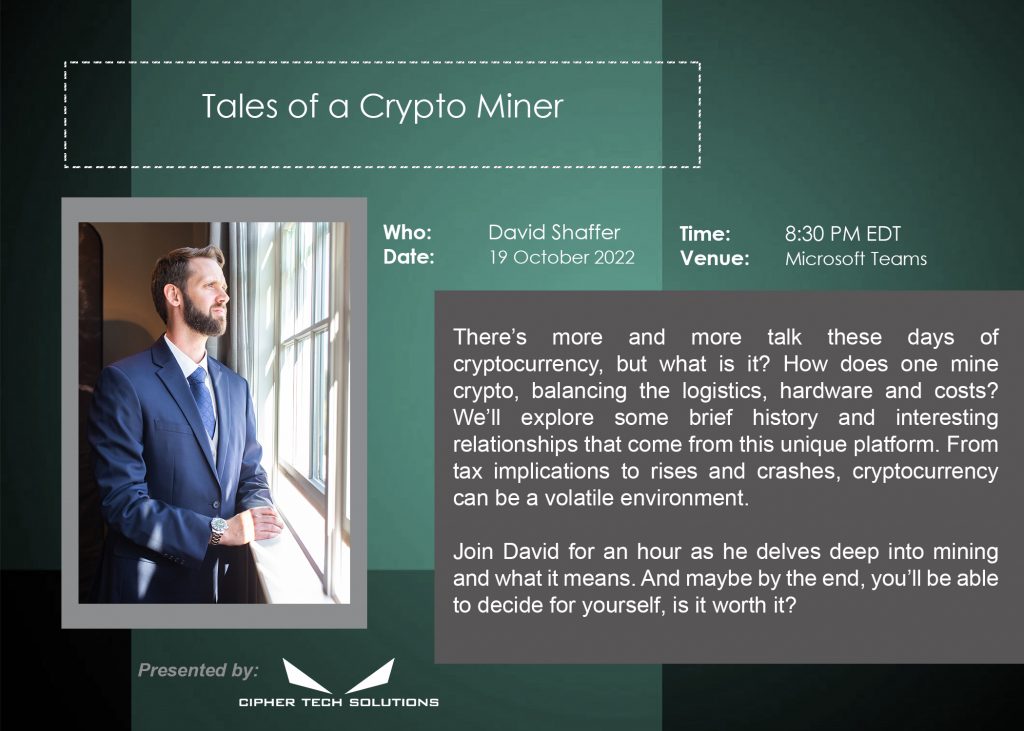 Abstract: There's more and more talk these days of cryptocurrency, but what is it? How does one mine crypto, balancing the logistics, hardware and costs? We'll explore some brief history and interesting relationships that come from this unique platform. From tax implications to rises and crashes, cryptocurrency can be a volatile environment. Join us for this hour of delving deeper into the world of Crypto currencies.
Bio: David is a Northern Virginia native who recalls when 495 wasn't always under construction and 66 didn't have toll roads. Much of David's free time in high school, college and early professional career involved short term construction missions trips and volunteer work with highschoolers and college students. Being local to the area, David took advantage of Northern Virginia Community College associate's degree transfer program with guaranteed acceptance into George Mason University, where he graduated as an Electrical Engineer. Throughout his college years, David worked construction, remodeling bathrooms and kitchens through the DMV before finding himself working in an ESD Lab manufacturing and troubleshooting electronic hardware. This made it possible to begin the slow journey from hardware electronics to embedded systems and then the wild and wonderful world of software engineering with large scale digital forensic processing and analysis. It was through this unique context that David realized his construction, hardware and software skill set were the perfect match with his first home. What was planned to be a simple bachelor pad turned out to be the genesis of a small-scale crypto farm!
________________________________________________________________________________
Connection Information:
Microsoft Teams, join on your computer or mobile app Click here to join the meeting
Passcode: 2ZaFDm
Call in (audio only)+1 443-938-9982,,369932279#  
Phone Conference ID: 369 932 279#
_______________________________________________________________________________
Want to be alerted via email or Signal messenger to new and upcoming talks? Send your contact information to Stephanie Johnson (sjohnson@ciphertechsolutions.com) and request that you be added to the "PWPGbWWtLHtDOSGT" distro.
_______________________________________________________________________________
PREVIOUS TALKS
Beating Vegas: The Math Behind the Movies
Wednesday 29 SEPTEMBER @ 2130 via Microsoft Teams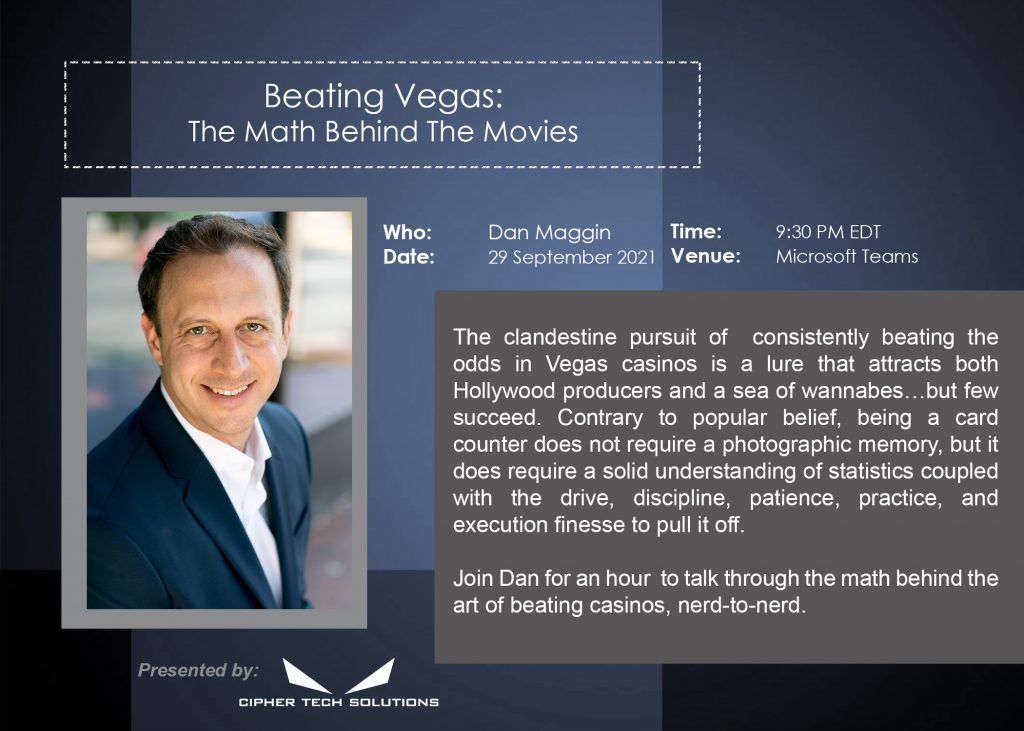 Abstract: The clandestine pursuit of consistently and systematically beating the odds in Vegas casinos is a lure that attracts both Hollywood producers and a sea of wannabes… but few people can authentically say that they have successfully run a professional card counting ring. Dan is the exception. There's also an extremely high chance that he's actually one of the real-life characters depicted in Tilton's book "The Blackjack Life," but he'll never admit it. Contrary to popular belief, being a card counter does not require a photographic memory, but it does require a solid understanding of statistics coupled with the drive, discipline, patience, practice, and execution finesse to pull it off. Yes, we've already tried to convince him of taking other clandestine life paths, but for now, we'll have to settle on him giving us an hour of his time to talk through the math behind the art of beating casinos, nerd-to-nerd.
Bio: Dan is a College Park graduate who is phenomenally talented with numbers. He has also got a scary ability to accomplish more than any other human ever has in Excel without macros and is a savant when it comes to gambling odds. He has also suffered the eventual fate of all professional counters, being ban from hundreds of casinos across the US. He's been on Jeopardy and Who Wants to be a Millionaire, and today spends his time wandering the streets in shabby suits looking for anyone who will engage him in a quick hand of blackjack – Oh and he's also the CEO of a boutique mortgage brokerage that services Maryland and Virgina. Like Cipher Tech, his firm has an outstanding reputation for excellence… but somehow Dan has been able to best the mortgage industry titans without scorching the earth in his path (that's the finesse again) — just one more skill that Bertolino still needs to learn from him.
UPPING YOUR GAME IN THE MARKET:
UNDERSTANDING STOCK TECHNICALS
Wednesday 28 JULY @ 2130 via Microsoft Teams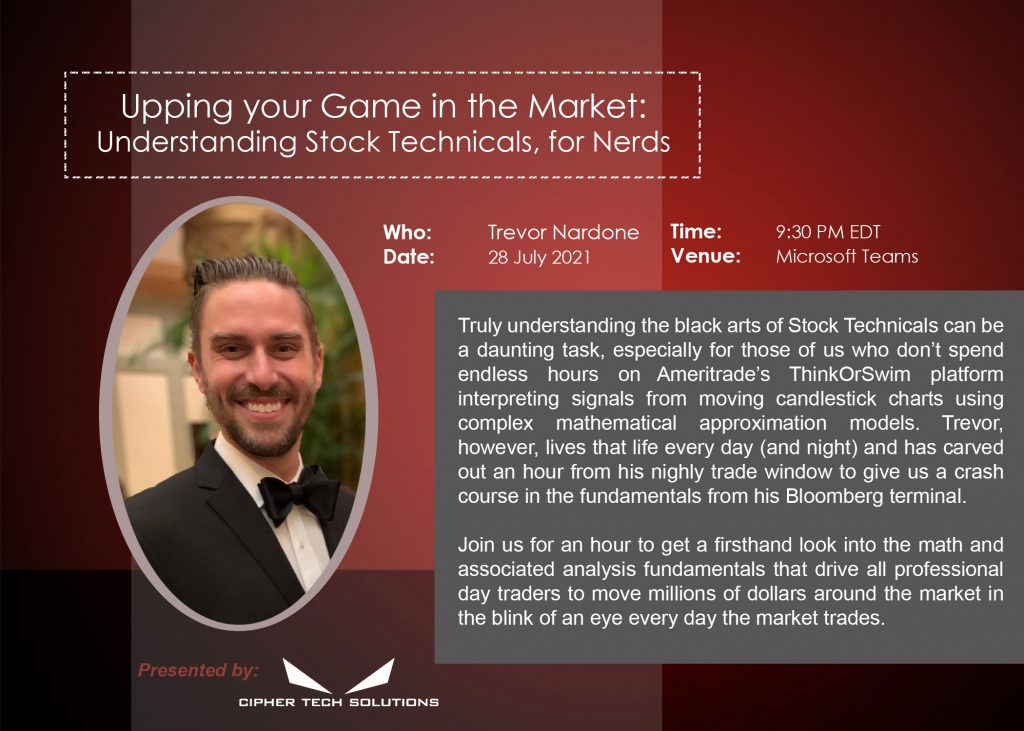 Abstract: Truly understanding the black arts of Stock Technicals can be a daunting task, especially for those of us who don't spend endless hours on Ameritrade's ThinkOrSwim platform interpreting signals from moving candlestick charts using complex mathematical approximation models. Trevor, however, lives that life every day (and/or night). He not only possesses deep-rooted technical stock analysis expertise, but also possesses the skills to break down the complicated fundamentals into digestible chunks for the rest of us nerds to understand. While there's no secret recipe or golden formula, trading is about playing the odds. The first step to giving yourself a 60/40 shot, while avoiding costly mistakes, is to lean from the experience of others. Join us for an hour to get a firsthand look into the math and associated analysis fundamentals that drive all professional day traders to move millions of dollars around the market in the blink of an eye every day the market trades.

Bio: Trevor has been involved in financial markets since he was 14, buying AOL and CSCO at the height of the 1999 tech bubble… which early on taught him a series of painful financial lessons. The experience drove him to study Quantitative Finance & Economics at James Madison University. His first job was doing risk analytics for UVA's Endowment, UVIMCO. That was summer 2007. Perfect timing to watch the world melt down a second time right in front of his face. From there, he took a job on Suntrust's $7b mortgage origination desk, creating and hedging Mortgage Backed Securities. Yup, the ones that caused the crisis. BUT, if you noticed, MBS haven't caused another financial crisis since … so be sure to thank him for that. After 10 years he was clipped as part of a merger with BBT. Burned out, paid to go away, and with enough money saved to retire at the way too old age of 35, he did just that. When COVID hit, he found himself sitting on a beach in Mexico, short equities and long gold. Perhaps the third crisis is a charm? Still, with plans never to return, earlier this year he was dragged out of retirement to run the trade desk for Amerisave Mortgage (currently a top 10 retail originator! [Shameless plug]). With technicals playing an intricate part in all daily hedging operations, now he's back into the charts every day and night (not just between beers on the beach).